Thai Tea Recipe {Make this Now}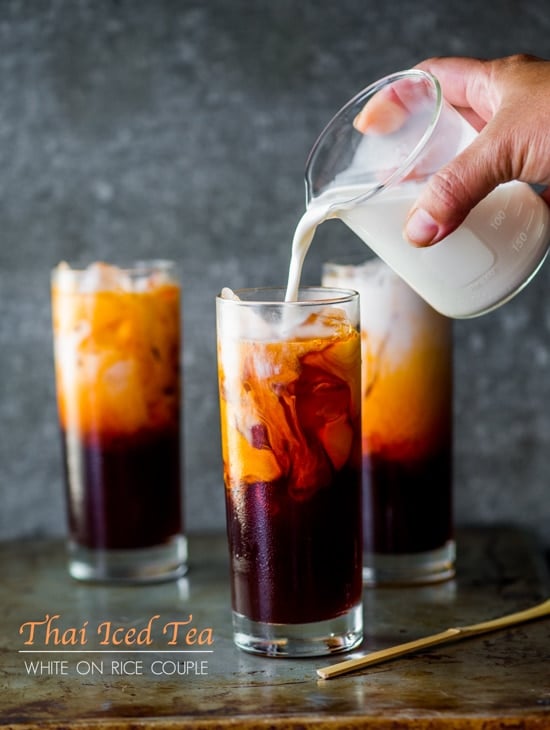 I had a "doh"/"ah-ha" moment last week when we were in Chicago to speak at
BlogHer Viewfinder Day

.
During one of the conference days, we escaped out to lunch at a local Thai restaurant to explore more of the city's culinary offerings. As always, we'll try to order something new and different, and in the case of a Thai restaurant it normally involves a curry dish (only medium spicy, please! we're not as young as we used to be), one noodle dish and an appetizer. On top of that, we always have to have Thai iced tea. How can we NOT have Thai iced tea when we eat Thai food? It's one of those decant "dessert" drinks that helps soothe the burn when we overload on too much of Thai spice.
Years ago, my Auntie Chung was telling me how easy it was to make Thai iced tea. She had worked in an Asian restaurant and one of the most popular items on the entire menu was Thai iced tea. She proceeded to tell me exactly how to make it and how profitable it was for restaurants to make Thai iced tea.
I didn't care too much about the profitability of Thai iced tea, but rather, more interested on how easily it was made and why we didn't make it more often.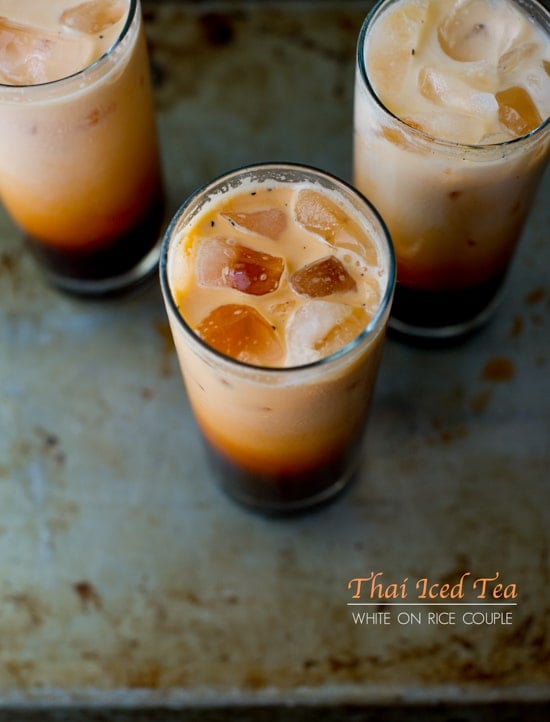 Fast forward about 7 years later as I'm sitting in Chicago eating Thai food and sipping my Thai iced tea, my brain light bulb pops on — "We need to make Thai tea! Auntie told me how easy it was to make and why haven't we made it before?"
Here you have it!
This Thai iced tea recipe is so easy that pretty much every YouTube video you see uses the same brand and shows the same steps. As far as the creamy layer goes, many people use different ingredients such as half and half, whole milk, coconut milk, sweetened condensed milk and even low-fat milk. Choose your creamy poison.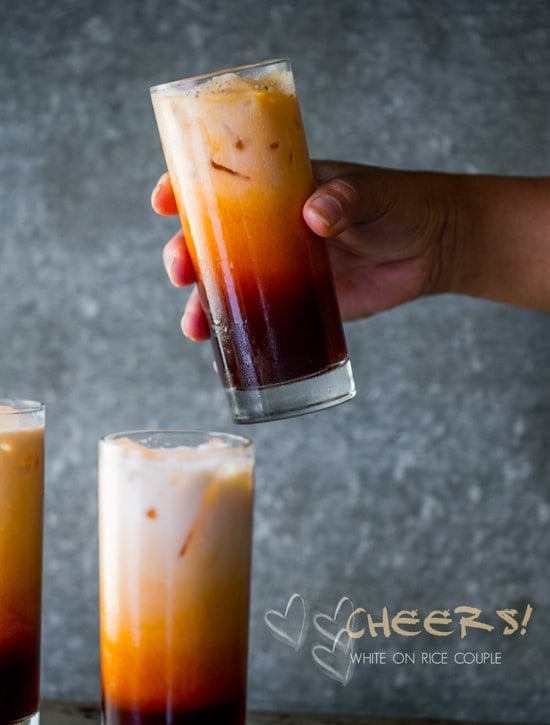 The only difference in our recipe is that we're using a little less sugar. But really, once you get the basics down on making Thai iced tea you can customize the flavors and concentration the way you like. It's one of those recipes that is great no matter how you make it because it's just so decadent and satisfying.
One of the key factors in making it like the restaurants is using authentic Thai tea mixes. These Thai tea mixes are normally dyed with yellow food coloring (look on the package) and that's what gives it it's bright orange color. Also, Thai tea has a vanilla aroma to it. So if you want to have the brilliant orange color and flavors like most of the Thai restaurants, then this is one of the
brands of thai tea to buy : Panthai
.
There's probably other brands of Thai tea mixes to buy, but this is the one we first tried it with and it was a success.
If you don't have Thai tea mix, then you can certainly use black tea. We also tested another version with pekong black tea bags and the flavor was still great. Only thing missing was the brilliant orange color and the subtle hint of sweet vanilla.
Either way, find your way into the kitchen or store to buy the Thai tea mix and make yourself a big batch asap. We're not joking. Make this now and let us know what you think. And remember, make it your own and play with the different levels of sweetness and creaminess.
Thanks Auntie Chung for the homemade Thai iced tea inspiration.
-diane
Fill the glass to about 3/4 of Thai tea mix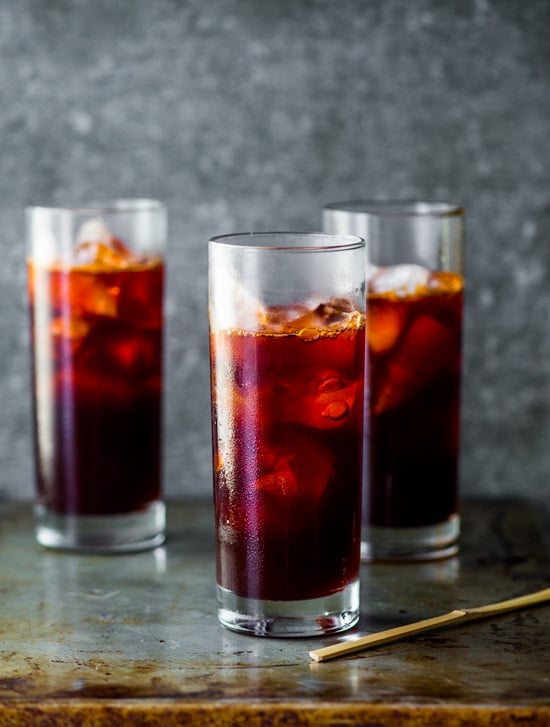 add half & half, it makes it creamy good. give a stir.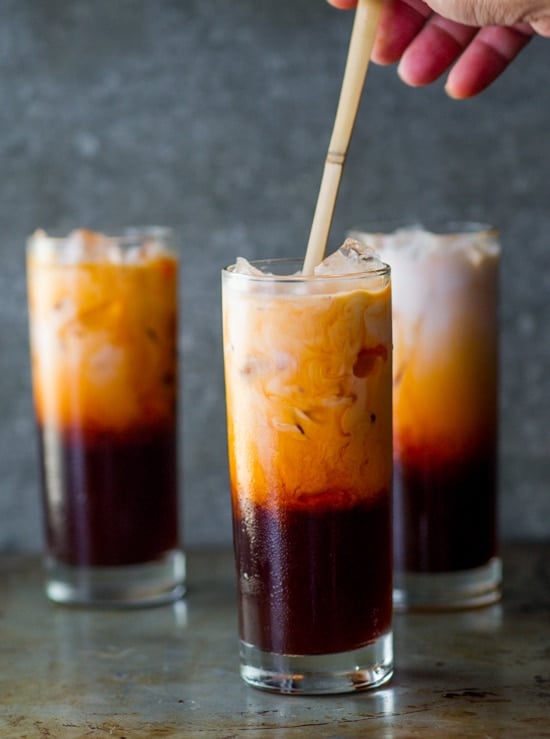 drink up lots of it and make more.